Resources
A Recap of NYWC Sacramento
Our hearts are still overflowing with encouragement from our time with youth workers at the National Youth Workers Convention in Sacramento. From October 2-5, about 2,000 youth workers poured into the Sacramento Convention Center for a weekend of prayer, inspiration, and seeking out what God might be illuminating in our hearts and in our ministries. Here are some highlights that are still resonating in our minds this morning…
Intensives kicked off Thursday afternoon with hundreds of youth workers talking through complicated topics like helping hurting kids, how to connect with students that have tough questions, walking with LGBT youth, building a healthy family and a healthy ministry, youth ministry management tools, thriving in your first two years of ministry, and helping students find a faith that lasts.
Thursday night, Mark Matlock shared 5 Reasons Why the Church Needs Youth Ministry. In those times of doubt, when you're wondering if the countless hours you're investing in the lives of students and families matter, you have to keep in mind just how important students are to the church and the impact they have on the body of Christ, Mark reminded us. If you weren't there, here's a link to another time when Mark shared the same 5 Reasons.
Then, the schedule kicked into full gear on Friday and included the first round of seminars, Idea Lab interviews, and family room gatherings.
Patrick Lencioni shared some incredible leadership insights during the Big Room Friday Night. He challenged us to remember our responsibilities as leaders, how a healthy team includes difficult stuff like vulnerability, honest disagreements, and strong accountability. He made a great point that leaders have to love their teams enough to hold them accountable to their work. If we don't, we're missing opportunities to help our teams grow.
Brian Wurzell's team and our crew behind the sanctuary and chapel spaces did an amazing job leading us in worship all weekend, creating room for us to reflect and respond to every moment of NYWC.
Saturday morning, Kara Powell reminded every youth worker of the dangers of exhaustion, saying that "exhaustion is the new status symbol of youth ministry." There are so many good things that we can spend our time on, but the reality is that we can't do all of them. We will eventually have to turn down opportunities and block out times in our schedule to refuel, or we'll kill ourselves and our ministries. Every time we say "yes" to something, we have to be OK with saying "no" to something else.
All throughout the weekend, Crystal Kirgiss kept asking youth workers why youth ministry matters and what new, different ideas they had for involving youth in vital ministry. As always, the responses were remarkable and included some profound insights from participating youth workers.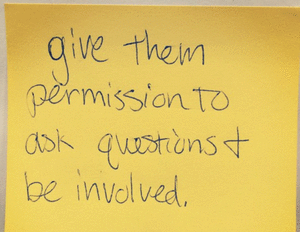 Francis Chan unpacked one simple question for us Saturday evening… What if our ministry was simply known for knowing Jesus? Francis reminded us that Jesus was the only one able to bring the dead to life. There is no game, program, dynamic speaker, or amount of pizza that can bring life to our students. This gave us so much hope, reminding every youth worker that no matter what limitations our ministry might have, if we work diligently to be known for knowing Jesus, God will do miraculous things in the lives of our students.
The late-night options continued Saturday night with amazing stuff like a live Download Youth Ministry Webshow and the powerful presentation of Laughter Is Sacred Space from Ted Swartz, which shared the struggles, heartache, and the ultimate hope found in the story of Lee Eshleman's life with bipolar disorder.
Sunday morning, James White wrapped up our Big Room sessions with a message about the hope we find in the lonely hours. When Jesus felt the weight of his calling, praying in the garden of Gethsemane for another way, he was experiencing a lonely hour. In the midst of our own lonely hours, Christ meets us there, he suffers with us, and he shows us that he never gives up on us. Every youth worker took a deep breath, remembering once again that Christ shows up to be with us even in our darkest moments.
If you were with us in Sacramento, it meant the world having you a part of this special tribe of youth workers and it would not have been the same without you. It is difficult to capture everything from a weekend like NYWC, but you'll enjoy some reminders in this short recap video.
If you're planning to join us in Atlanta, we can't wait to be with you, pray with you, and be encouraged alongside of you and your ministry. Haven't signed up yet? There's still time! Check out all the info for NYWC Atlanta HERE.
Disclaimer: The views and opinions expressed in the YS Blog are those of the authors and do not necessarily reflect the opinion or position of YS.