Culture
Do Not Fear: Our Reminder for Students
Young people today are being raised in a society that uniquely understands fear.
Of course, students have many of the same fears we did—breakups, being outcasts, the future—but they're exposed to more information about worldwide violent crime because of their access to media. The kids in today's youth ministries have to go through metal detectors to get into school baseball games. They're desensitized to mass shootings, school shootings, church shootings, and police shootings. No student currently in high school remembers a time before 9/11. The people we're ministering to understand fear to a degree that most adults do not. It's more than their personal fears—it's a systemic belief that the world we live in isn't safe. The schools they attend aren't safe. The country they live in isn't safe.
Despite all of this, one of the most repeated instructions in Scripture is some variation of "Do not fear." When Joshua—the guy put in charge after Moses—was given the challenge of moving into the land God had promised, he must have been afraid. He knew the Canaanites were strong and lived in cities built for war (Numbers 13:28). As someone thrust into a new set of responsibilities that brought new fears and anxieties, Joshua is the type of man students will resonate with.
Joshua was given two encouragements:
Only be strong and very courageous, being careful to do according to the law that Moses my servant commanded you. Do not turn from it to the right or to the left, that you may have good success wherever you go. (Joshua 1:7)
Here, Joshua is given instructions to be strong and courageous and to follow what God has promised. These things happen simultaneously! When we encounter fears beyond our power, the resulting action shouldn't be to pull away from God—instead we should draw nearer to him. When we follow him, we can rest in the knowledge that his burden is light and that we don't have to handle everything on our own (Matthew 11:30). When I first became a husband, I was fearful: Would I be a good husband? Would I lead my family well? Instead of relying on myself to do the best I could, I continued to follow and serve Jesus and allowed my relationship with my wife to flow from that (you'll have to ask my wife to find out if it's working).
Do not be frightened, and do not be dismayed, for the LORD your God is with you wherever you go. (Joshua 1:9)
When we take a good, long look at our teens' fears, they're most often a product of what teens cannot control. The same can be said for our fears. We don't know what the future will look like, so it becomes scary. We're not sure who we are without a certain job, significant other, or social status, so we feel fear. Ultimately, this is a call from God to deeper relationship with him. Our fears help us realize our need for a Savior—a need to be a part of something larger than ourselves. How comforted Joshua must have been to find out that God would be with him no matter where he went. We all would like to hear from God that clearly. In 1 Corinthians 3:16 Paul tells believers that God is not only with them, he also is in them. The One who spoke everything we've ever seen, heard, or experienced into being is who gives us the power, love, and self-control (2 Timothy 1:7) to look at our fears and realize they're not strong enough or big enough to stop the work the Lord is doing in and through us.
Students' fears offer two gifts.
First, fear can be an opportunity to draw nearer to Jesus and trust in his plan.
Second, fear can help students escape some future pain that's heading their way.
As Joshua did, students in our youth ministries need to trust that God is in them and live how he has asked us to. Through this, they will experience joy and freedom that comes only through trusting in Jesus and trusting his Word to be true.
---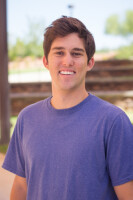 Michael Baker is the Associate Pastor of High School Ministry at Highlands Church in Scottsdale, AZ.
Disclaimer: The views and opinions expressed in the YS Blog are those of the authors and do not necessarily reflect the opinion or position of YS.