Featured
Ideas for Small Group Leaders: YS Idea Lab with Jonathan McKee
Jonathan McKee is a longtime contributor to the YS Blog, the author of dozens of youth ministry resources, and a seminar speaker for youth workers at the National Youth Workers Convention. He has spent many years guiding youth workers, and he took a few minutes in this YS Idea Lab to share things he's learned that will help your small group leaders.
If you don't have time to watch the full video, here are a few quick tips I found helpful:
Create a climate of conversation.
Jonathan described the most beneficial small group as one in which the leader is a facilitator of conversation. Before students feel comfortable enough to engage in conversation, they need to know that the small group is a safe place to talk, that they can be noticed and supported, and that it's a group of people who want to hear what they have to say. This won't happen overnight, but the work a small group leader puts into helping the students know they can talk, be noticed, and be heard will pay off in the end.
Rules: 1) Listen, and 2) Don't be a turd.
To help create a climate of conversation, Jonathan suggested setting two ground rules for the group: 1) Listen and don't talk when others are talking, and 2) Don't be a turd. These rules are about helping students respect each other and making each of them feel as if he or she really does matter to the group.
It's a dialogue not a monologue.
Getting students to engage in a small group starts with a small group leader who understands that his or her job is simply to facilitate conversation. The leader should ask the questions and then get quiet and let the students talk. Jonathan noted that it takes a bit of humility to choose to listen. It also takes a ton of patience—this is especially true if the answer to a question seems obvious. But the real benefits of a small group come out when students can help each other find the answers by sharing from their individual experiences and perspectives.
Small groups aren't the same everywhere.
Jonathan reminded us that small groups look different depending on the context. Some youth ministries utilize spontaneous small groups that might include a different group of students every week. Others might have sign-ups where students pick a small group based on their ages, schools, genders, or interests. Some youth workers choose to assign students to small groups every semester. There can even be programming in which the venue itself is a small group. Each approach to small groups has positives and negatives you should be aware of. Utilize the positives to create a well-rounded experience for your students. Understand the negatives so that you can supplement the small group experience through other elements of your youth ministry.
Ideas for discussion starters.
If you're reading this as you're gearing up for small group, here's a list of questions you can pair with each student's first name as discussion starters:
What's your favorite candy bar?
What gaming console would you buy if money wasn't an obstacle?
What animal best matches how you feel right now?
I'll give you a million dollars, but . . .

you can only spend it using $1 bills. Would you take it?
you have to purchase everything in bulk (think Costco on steroids). Would you take it?
every time you spend the money, you have to get a tattoo of a product brand on your body (Pepsi, Tide detergent, Dominoes pizza, etc.). Would you take it?
every time you walk into a room you have to announce yourself like you're royalty from ancient England ("Hear ye! Announcing duchess Barbara Sanders!!). Would you take it?
The YS Idea Labs are filmed on location at the National Youth Workers Convention. Check out more YS Idea Labs HERE and register early for NYWC to save BIG: NYWC.COM.
---
JACOB ECKEBERGER is the Content Manager at Youth Specialties, an itinerant worship leader, the spouse of a church planter, and a long time volunteer youth worker. You can find him blogging about social media and digital strategy ideas at JACOBECKEBERGER.COM.
.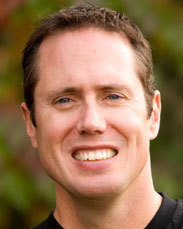 JONATHAN MCKEE is the author of over 20 books including the brand new MORE THAN JUST THE TALK, SEX MATTERS, THE GUY'S GUIDE TO GOD, GIRLS AND THE PHONE IN YOUR POCKET, THE ZOMBIE APOCALYPSE SURVIVAL GUIDE FOR TEENAGER, and youth ministry books like MINISTRY BY TEENAGERS, CONNECT: REAL RELATIONSHIPS IN A WORLD OF ISOLATION, and the 10-MINUTE TALKS SERIES. He has over 20 years youth ministry experience and SPEAKS to parents and leaders worldwide, all while providing free resources for youth workers and parents on his websites,THESOURCE4YM.COM and THESOURCE4PARENTS.COM. You can follow Jonathan on HIS BLOG, getting a regular dose of youth culture and parenting help. Jonathan and his wife Lori, and their three kids Alec, Alyssa and Ashley live in California.
Disclaimer: The views and opinions expressed in the YS Blog are those of the authors and do not necessarily reflect the opinion or position of YS.