Adolescence
THE WAY WE WERE | UNLEARNING FOR THE FUTURE OF OUR STUDENTS
"The illiterate of the future will not be those who cannot read and write. The illiterate of the future will be people who cannot learn, unlearn, and relearn. The question for us is, "What have we learned that we need to unlearn?" Alvin Toffler, Future Shock
This week Pope Francis shockingly declared to Catholics worldwide — who cannot go to confession because of the COVID-19 pandemic and subsequent social distancing — that "You don't need a priest for confession." Interestingly enough, per the Catechism, Catholics have always been able to confess without a priest. The Church just never mentions it for some reason.
This week six-time Super Bowl champion quarterback Tom Brady became a Tampa Bay Buccaneer.
This morning our youngest daughter, home early from her freshman year in college because of the COVID-19 pandemic, asked me in a very serious tone if I thought the world was ending.
Maybe so.
And maybe the question for us is, "What have we learned that we need to unlearn?"
If there is a component of youth ministry in America that we need to learn, unlearn, and relearn, I believe it is student leadership development. In most churches and to most teenagers, being a leader has been reduced to a certain set of outcomes, an exercise in scrambling for position and achievement.
If we're honest, students leading within our respective ministries has been reduced to "help us make our youth group better" and becoming a better church attender, with little to zero thought towards a high school student's future life outside the church's four walls.
There is zero question in my mind that you care deeply about fueling the next generation of leaders worth following. Deep down, I think that idea is a guiding axiom for most of us in youth ministry. But I wonder if our process for developing leaders worth following is misguided. We have made heroes of teenagers who speak, lead worship on a stage or who do missions in a developing country every summer and zeroes of anyone whose gifting and passion doesn't fit in that box or cannot attend our meetings.
Even more, there are those teenagers who sadly replace the heart of leadership — influence — with gaining position or status. There is nothing wrong at all with a teenager choosing to make their church's youth ministry the hub of their social life. There is something terribly mistaken about discounting a student's influence or leadership ability because they don't, or, even more, overestimating a student's influence because they do. If our goal is to just make our ministry better, our leaders should be the ones most committed to the ministry. If our goal is to develop students as leaders, then we should be fueling the teenagers who other teenagers naturally gravitate toward, who demonstrate potential, passion, incredibly high EQ or a natural ability to lead.
The next generation is plagued by busy schedules, academic pressure, inadequate coping skills, risky behavior, difficulty navigating relationships, social media comparison and now a worldwide pandemic that escalates their being the most anxiety-ridden generation in history.
Teenagers average three hours, thirty-eight minutes daily online on smartphones, with 91% of Generation Z going to bed with their smart phone. Over a third of this generation knows someone who is non-binary, and one in ten will identify as something other than heterosexual. By the year 2045, Caucasians will be the minority in America. Only 4% of the next generation claims to hold to a worldview consistent with a a traditional view of the Scriptures. The average age adolescents first watch porn is 11 years-old. Nearly three-fourths of 15-18 year-olds have sexted, and half of 15-18 year-olds have sent naked or semi-naked photos and videos of themselves.
Are you fueling your students to lead in that world?
Consider as well a mystifying reality that today's typical high school graduate will change occupations at least seven times within their lifetime. Not jobs. Occupations. Because of the warp speed of technological advancement, a 2017 report estimates that 85% of the jobs that will exist in 2030 (ten years from now) haven't even been invented yet. Such a radical shift from full-time work to a "gig economy" will mean that your teenagers will launch head-first into a world that doesn't look at all like their parents or maybe even yours. If everything is spiritual, this should matter to us.
Are you fueling your students to lead in that world?
If truth be told, most of our youth ministries are preparing teenagers for a world that no longer exists.
I would propose that our respective student leadership initiatives should be missional and not church-centric, intentionally emphasizing leadership outside of the "ministry box." Our student leadership initiatives should champion parents, partnering with parents to help parents fuel their teenager to learn how to think, not what to think. Our student leadership initiatives should be developmentally designed. Whatever it is that we do, its design should be to mobilize potential in high school students. Our student leadership initiatives should be versatile, flexible and encourage self-discovery and ownership, designed in such a way that students interact with content at their own pace, on their own turf, where students are enabled to become self-feeders.
Our student leadership initiatives should be experiential, fueling application in real-world in real-time. Our student leadership initiatives should be about circles, not rows. Influence is fueled by equal to greater parts inspiration, perspiration, information, preparation, motivation and relationships. Our students need intentional and strategic relationships with an adult mentor with leadership expertise.
And here is the heads up: we as youth leaders cannot be the total sum of our students' leadership influence.
I am not sure God makes things happen, but I am certain God makes things matter. Perhaps these unprecedented times are a gift to youth ministry America, forcing us to reckon with the end of the world as we know it….
To fuel the teenagers we HAVE and not the teenagers we WERE.
---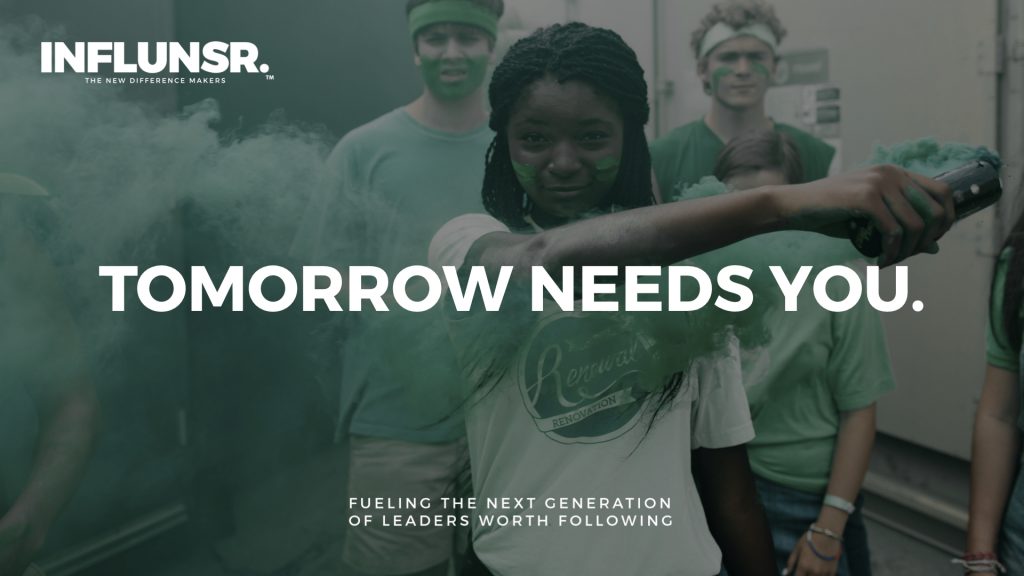 Go to www.influnsr.co, use the code YS20 for a free three months subscription to INFLUNSR, a gift to our Youth Specialties family!
INFLUNSR isa digital student leadership initiative uniquely designed to fuel the next generation of leaders worth following. Each week select high school students, parents, mentors and youth leaders interact with culture-current content, developmentally designed to mobilize their leadership potential, sent directly to students, parents, mentors and youth leaders, and driven by a weekly series of email and text multi-media links.

Disclaimer: The views and opinions expressed in the YS Blog are those of the authors and do not necessarily reflect the opinion or position of YS.